Thank you to all of our generous Fans! We cannot thank you enough for your continuous support of both Thumper Racer #12 and the McDonald Racer Race #37.  We've been very fortunate to receive outstanding artwork, models, and other gifts featuring our aircrafts over the years and would like nothing more than to share your talent with the rest of our fans and supporters.  Please take a moment to read through an exclusive interview with our biggest fans and to view the amazing artwork we've been given below.  If you have something to submit, please contact Nikki@T6RaceTeam.com.
Artwork, Models, and More!
Exclusive Interview with our Biggest Fans: Christopher & Alexander
Dieter Enkelmann's AT6 Model of "Thumper" Race #12
Craig DiLullo's Slogan Artwork for McDonald Racer #37
Our Biggest Fans
The annual Reno Air Races attract 250,000-300,000 wonderful fans from all over the world…but it is two brothers in particular, Christopher and Alexander, that we will always consider our biggest fans. Not only have they stuck with us from the very beginning, but they have quite literally grown up at the races. Alexander was only two months old when he attended his first race, and Christopher became a Thumper/McDonald Racer Fan at the age of three and half, when he approached the pilot offering to, "fix an oil leak with some glue". These boys are not only our biggest fans, but permanent members of the crew and McDonald Racer team.  Thank you Christopher and Alexander for your constant support and encouragement! 




An Exclusive Interview with Our Biggest Fans...

February 10th, 2010

Christopher: 13 years old, in the 7th grade.
Alexander: 9 years old, in the 3rd grade.


What is your favorite part about the Reno Air Races?

Christopher:  "My favorite parts would probably be the T-6 and Unlimited races
and the aerobatics."

Alexander: "My favorite parts are seeing Thumper and the McDonald Racer race
and the Gold Unlimited Race."


What's your favorite Thumper/McDonald Racer Souvenir?
Christopher:  "My favorite souvenir would have to be my first and original Thumper Hat.  Not far behind would be my annual plane picture with Pilot John."

Alexander:  "My favorite souvenirs are the plane parts from Thumper that Pilot
John gave us."


What do you want to be when you grow up?
Christopher:   "I would like to be a lawyer but would also like to have my
pilot's license and maybe even race."

Alexander:  "I want to be a famous football player."


Do you think you'll ever become a pilot?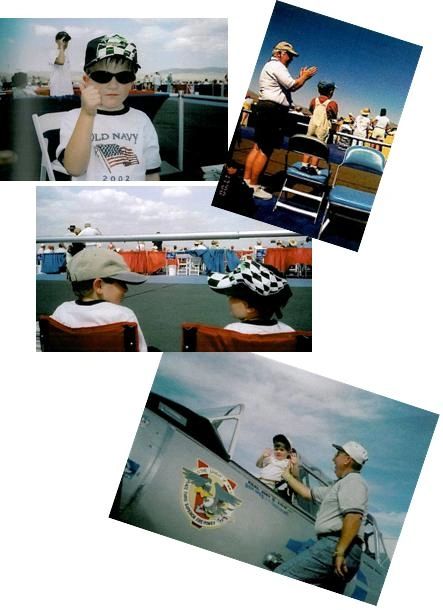 Christopher:  "Yes I do, I'd love to get my license."

Alexander:  "I might get my pilot's license."


Is there anything else you'd like to say, or include in your interview?
Alexander:  "Let's go for the gold, McDonald Racer!"

Christopher:  "See you in September…"
Fan Artwork, Models, and More!

Dieter Enkelmann's AT6 Model of "Thumper" Race #12

Dieter Enkelmann of Germany created this amazingly detailed model of the "Thumper Race
#12 in 2007.
His model was featured in a magazine called
Modellflug International
, having taken him 300 hours to complete!  The resemblance is extraordinary.  Refer to the images below to see comparison of the model to the actual Thumper Race #12 aircraft.


Pilot:
Dieter Enkelmann

First Flight:
October 13th, 2007

Scale:
1:3,74

Wing Span:
3,42m

Length:
2,36m

Weight:
24,8kg

Motor:
5 cylinder, 4 stroke radial engine

Engine Power:
16 HP
The Real Thumper Race #12 (on left)
V.S.
 Dieter Enkelmann's Thumper Race #12 Model (on right)

View more images of Enkelmann's model
here
.
Craig DiLullo's Slogan Artwork for McDonald Racer #37