Crew Members Include

Craig Haakenson
Todd Atkinson
Dick Jones
Maynard Kealiher
Iris Vaughan
Rex Vaughan
Steve Frahm
Zayac Sisterz
Dick Wells
Rich Wells
Scott Lawrence
Daryl & Mark Klone
Nick Carter
Angel Andres
Rachel Burton
Krystal Burton
Jamie Mayer
Craig DiLullo

Craig Haakenson
Crew Chief
Craig, who is the Crew Chief of the McDonald Racer team, is responsible for keeping the "aircraft flying" and "John, the pilot monkey, safe". Working for Delta Airlines, he brings 21 years of mechanical expertise to the team, working year round to prepare for the races each September. Craig's favorite part about being part of the Race 37 team is the "fun we [the crew] have, and the excitement of trying to be number one out of all the other race teams".
Craig's Goals for the 2010 Races:
"One main wish I have for this team is to win AND be safe…the second
would be to set a course speed record" –Haakenson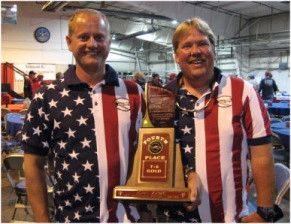 Todd Atkinson
For the last 10 years, Todd (on the left) has worked to make the McDonald Racer's radial engine noise into "sweet music". He enjoys working along side his friends and loves when fans remember the race team in past Reno Air Races. Todd believes that the McDonald Racer crew comes together as a model of success and hopes for a dominating win in the 2010 races.
Todd's Advice to Children Aspiring to be Pilots:
"Be very prepared and pay close attention to detail,
and you will always stay safe" –Atkinson

Dick Jones
Dick has been part of the crew since the beginning of it all, and brings 45 years of aviator experience and knowledge to the McDonald Racer team. One of his most vital roles on the team is making certain that both the aircraft and the pilot are race ready.
Having over 3,000 T-6 hours logged, it's also important to note that he was Zayac's original instructor and check pilot in the T-6.
Dick's Advice to Children Aspiring to be Pilots:
"Work hard and save your money" -Jones

Maynard Kealiher
Maynard has been with the race team since day one. As a crew member, his primary responsibilities as the recording engineer includes timing and taping the races, as well as data analysis used to understand, and improve the McDonald Racer's overall race strategy. His favorite part of race season is interacting will all of the crews and teams because, "without fail you can generally count on your competitors to also be your best friends when you need a hand"
Maynard's Advice to Children Aspiring to be Pilots:
"Remember that the journey is the thing, not the destination. In other words getting
there is a large part of the fun. In aviation and racing, the skills you learn apply
equally well to everything you do in life, both personal and professional.
Work hard, listen, do your very best, and be honest." – Maynard Kealiher

Iris Vaughan

Iris joined the McDonald Racer crew three years ago, and has brought endless smiles to the team with her positive attitude and endless encouragement. She helps prepare meals for the crew, and is always willing to jump in and help clean and wax the plane. Iris is married to Rex, and assists Tulsa Aircraft Engines in professional translations with her bachelor's degree in business administration and fluidity in both English and Spanish.
Iris' Favorite part of being a Race 37 Crew Member:
"Supporting Rex and the team, while sharing
the excitement of the races with friends" - Vaughan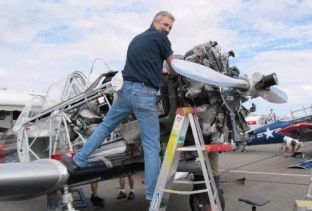 Rex Vaughan

Rex brings vital insight to the Race 37 crew, having been a radial engine mechanic for 28 years. His primary duty on the team is to create, "as safe of an engine as possible, while at the same time giving it as much horsepower as possible". He has owned and operating Tulsa Aircraft Engines with Sam Thompson for 21 years and is not only a crew member, but an essential sponsor to the McDonald Racer team as well. To learn more about Tulsa Aircraft Engines, make sure to visit their web page at: www.taeengines.com .

Rex's Favorite part of being a Race 37 Crew Member:
"The chance to share the racing experience with his fellow crew
members and to keep John [the pilot] on his toes" -Vaughan

Steve Frahm
Steve (far left) joined the crew in 2005 due to fellow crew member Dick's outstanding crew lunch making skills, and because he loves both "laying on [his] my back under a 65 year old aircraft to wax it" and because he enjoys "hanging out with a bunch of aviation nuts all day, talking about the amazing airplanes all around [them] us". A pilot himself since 1977, he gives flight lessons part time and is dedicated to aviation safety working for AOPA's Air Safety Foundation by hosting safety seminars throughout the country.
Steve's Goals for the 2010 Races:
"To be allowed to help Dick make lunch…I've been practicing by
spreading mayonnaise on white bread so that I'll be ready when
called….that and of course to watch John [the pilot] be rewarded
with first place in the gold." -Frahm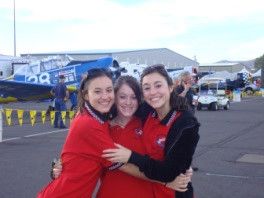 Zayac Sisterz
The Zayac sisters, Nikki, Jessi and Krysta, are the three daughters of race pilot John Zayac. Although they are not responsible for the mechanics of the aircraft, they consider themselves moral support, playing their essential roles as "good luck charms", with the duty of giving the crucial "good luck kisses" (K. Zayac) that every race pilot needs to fly safe and win the gold!
Nikki's Favorite part of being a Race 37 Crew Member:
"Getting together with my sisters and the crew every year to support dad
when he races….and of course to enjoy Mr. Wells' signature
crew lunches, and Mexican food night with the Paynes" –N. Zayac

Jessi's Favorite part of being a Race 37 Crew Member:
"The anticipation of who's going to win…along with the
go carts and bungee jumping with the crew at night" –J. Zayac

Krysta's Favorite part of being a Race 37 Crew Member:
"Watching my dad race from on top of the trailer,
and being around all of the excitement"-K. Zayac

Dick Wells
Dick Wells has been an irreplaceble member of the McDonald Racer crew since day one. He not only aids the crew in general maintenance of the aircraft, but has also been in charge of one of the most important roles in the crew for the last ten years...Crew Chef. Having served the team over 100 meals throughout the race years, we can all agree that no race crew could have been luckier! Not only are the meals exicuted with the efficiency of a FAA certified flight instructor, but they are tasty as well.

Rich Wells
Rich has been flying since he was a toddler and has enjoyed getting up in the air whenever possible. He joined team during the McDonald Racer's restoration process, helping to polish away "a few decades of oxidation". During race season, Rich helps to keep the plane clean and times the runs. He's hoping that this year the McDonald Racer will find the "extra 10 knots and take the gold!"
Rich's Favorite part of being a Race 37 Crew Member:
"Getting to see the preparations leading up to the race, the skill of the pilots, and the little luck that produces the excitement of the competition" –R. Wells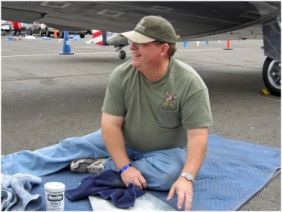 Scott Lawrence

Scott, a WWII historian and die-hard aviation enthusiast, became a crew member in August of 2005. During the races, his crew responsibilities include de-bugging, dusting, and waxing the aircraft, while throughout the year he does "whatever [he] I can to get in the way of...errr…help Craig and Todd". It's also very important to note that Scott has been know to weald a mean screw driver…
Scott's Favorite part of being a Race 37 Crew Member:
"The way I am included in every aspect of the operation. I was fortunate enough to be able to help rebuild Race 37, regardless to the fact that I am not a mechanic or pilot. I got to get my hands dirty, and I cannot tell you how I felt when I saw my name on the side of the airplane. John and the entire crew have treated me as a full member of the team from the first minute." -Lawrence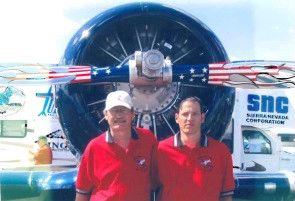 Daryl & Mark Klone
Daryl (far left), a crew member for the last 4 years, first fell in love with aviation while working with his father restoring a wrecked Piper Cub and Stinson A-10. He's seen virtually every type of home built, World War II, military jet, general aviation, and antique aircraft ever made…but he still can't get enough. Besides helping to prepare the aircraft for the races, Daryl has mastered sleeping during the fly-bys and praying for pilot safety.
Daryl's Advice to Children Aspiring to be Pilots:
"Work hard, be nice, have fun, and go for the gusto!" –D. Klone







Nick Carter
Nick, a pilot himself, has been a crew member since the good ol' "Thumper" Race 12 days. He is responsible for the "small segment of the left wingtip" which he makes "slick, smooth and perfectly aerodynamically clean". He's also the team's personal meteorologist, being the weatherman "in real life" for the FOX 31 Denver News. In addition, he is also a national sales representative of Ringdale Technologies, G2LED industrial LED lighting systems, lighting everything from parking garages to aircraft hangars with the latest in LED technology.
Nick's Favorite part of being a Race 37 Crew Member:
"I love the hospitality, the vitality and family friendship. Because we often see some members only once a year the whole racing event becomes a sort of family reunion. It's a real bonding experience to get together to laugh, love and fly." -N. Carter





Angel Andres

Angel (pictured on the left), an outstanding photojournalist and videographer, is the crew member in charge of airport salsa dancing, trouble making and outstanding videography of the air race team. He fell in love with aviation when his uncle took him to an air show at Buckley AFB where he saw the Blue Angels perform "officially welding a love for things that fly into [his] my heart".
With over ten years experience, Angel has not only shared his "story telling videography" with the McDonald Racer #37 air race team, but also provides his artistic talents through his company "Angel Andres" providing services including, but not limited to, promotional videos, music videos, wedding and special event videos, etc. Please take a moment to view Angel's portfolio here: www.angelandres.com.
Also, take a look at the amazing sponsorship video he put together for the McDonald Racer #37 here: McDonald Racer #37 Video.


Rachel Burton


Rachel Burton is a Colorado native, currently attending the University of Colorado at Boulder for a degree in Communications with a minor in Business. With a passion for cars, working on them and overall car racing, she naturally also found an interest in the world aircraft racing. Her favorite pastime is to fly over the city of Denver in a Cessna 182, with pilot Angel Rosado.
"I am so excited to be part of the McDonald Racer team as an intern! As someone who is interested in both business, sponsorship development and public relations, I can't wait to develop my skill set with the team" – Rachel Burton


Krystal Burton

Krystal Burton is a new member to the McDonald Racer #37 Team. She is a CU Buff alum with a Bachelor's Degree in Journalism and works for FOX 31/Channel 2 News. She also volunteers at the Denver Dumb Friend's League and helps find furry friends new homes by featuring them on TV.
Krystal is Angel Rosado's number one Co-Pilot and assists him with pre flight checks. She realized her love for flying after they took a cross-country trip to Nebraska. "It was love after that!"
Krystal went to Reno to help the coverage of the 2011 Air Races and will not forget the tragedy that happened there.
She hopes to be able to help the team in in the future any way that she can, and always looks forward to having a beer or two with the crew in the hangar!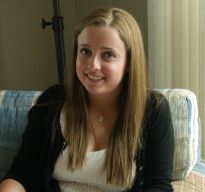 Jamie Mayer

Jamie is one of our new interns for the McDonald #37 Race Team. Currently, she is studying Public Relations at DePaul University. As an intern, Jamie will be working directly with McDonald Racer #37 media and aiding in overall communications for the team. She hopes to learn more about public relations and gain further experience for her future.
"My goals are not simply to learn more, but also to showcase and bring awareness to the McDonald Racer #37 and the races." -- Jamie Mayer


Craig DiLullo
Craig is a crucial part of the McDonald Racer #37 crew, as the official "polisher" of the race aircraft. He's been a part of the family for the last five years and wants nothing more for the team than to win gold and keep John safe.
Craig's Favorite part about being a Race 37 Crew Member:
Watching the "amazing air show/races and hanging with the crew" - Craig.